Greenville, South Carolina
Abbie Pressley & Melanie Moore-Shaw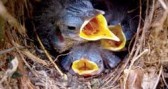 We're passionate about birds and nature. That's why we opened a Wild Birds Unlimited Nature Shop in our community.
Greenville, South Carolina
626 Congaree Road,
Congaree Center #4
Greenville, SC 29607
Phone: (864) 234-2150
Email: Send Message
Store Hours:
Mon - Fri: 9:30 am - 5:30 pm
Sat: 9:00 am - 5:00 pm
Sun: Closed

Comments:
We can help you make your backyard a haven for the birds with food, feeders, and water.

How to Choose the Best Hummingbird Feeder